Tom Fruin's KOLONIHAVEHUS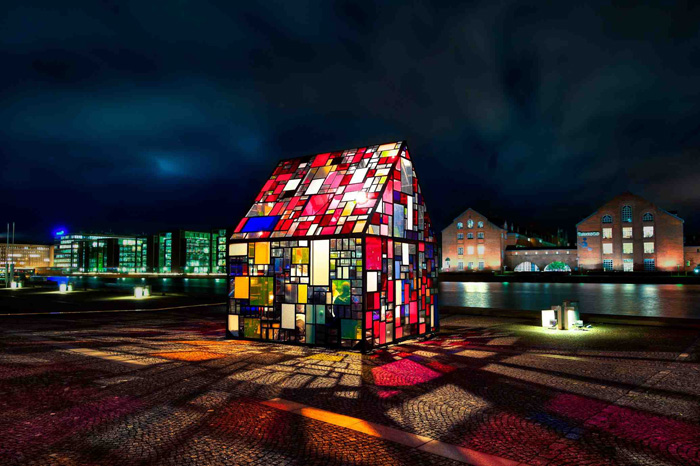 Location: Brooklyn, NY
Kolonihavehus is currently on exhibit in Brooklyn Bridge Park following a tour of Europe and Scandinavia. Exhibition locations have included Copenhagen, Denmark (The Royal Danish Library Plaza, October-November 2010); Aalborg, Denmark (Nordkraft, October 2011); Prague, Czech Republic (Prague National Theater Plaza, April-May 2012); Helsingør, Denmark (Havengade Plaza, July-August 2012); Vienna, Austria (MuseumsQuartier plaza, November 1012 - January 2013).
Information:
Tom Fruin Studio is pleased to present Kolonihavehus, a new sculptural artwork by Brooklyn artist Tom Fruin. For the first scultpure in his internationally recognized Icon series, Fruin has created a garden house in colorful salvaged plexiglas and steel. The work takes its name and inspiration from Copenhagen's ubiquitous kolonihavehus: a modest garden shed originally intended to give state workers a refuge from cramped living conditions in the city. The Icon series can be seen as a three-dimensional evolution of Fruin's found drug-bag quilts and flags for which he is well known.

Fruin, who often works with reclaimed and discarded materials, has composed Kolonihavehus from roughly one thousand scraps of plexiglas. It includes such details as a pivot mouted door with hand-made hinges and several operable windows. The locally-sourced plexi came from all over Copenhagen: a defunct plexiglas distributorship, a closing picture framing shop, the basement of the Danish State Art Workshops, and the dumpsters outside the Danish Architecture Center.

Tom Fruin (b. 1974) works in Brooklyn, NY. His work is a part of many international museums and collections, most notably The Hanck Collection at the Museum Kunstpalast in Düsseldorf, Germany; the Richard J. Massey Foundation for Arts and Sciences in New York, NY; and the Buenos Aires Design Center (Centro Metropolitano de Diseño) in Buenos Aires, Argentina. Fruin's most recent work in the Icon series is the 20 foot tall Watertower in DUMBO, Brooklyn.

Kolonihavehus was conceived in collaboration with CoreAct, a Copenhagen-based performance company headed by Anika Barkan and Helene Kvint. During its exhibition the sculpture is brought to life by performances exploring the concrete poetry of Danish poet Vagn Steen, with computer controlled light sequences by Nuno Neto, Mikkel Jensen and Frantisek Fabian, a sound installation by Astrid Lomholt, and costumes by Camilla Lind.

Kolonihavehus, 2010
found plexiglas, steel
12 x 12 x 14 feet

For additional press information please contact Becky@tomfruin.com.
Photos by Tom Fruin and Andreas Steen.