Tom Fruin's HOTEL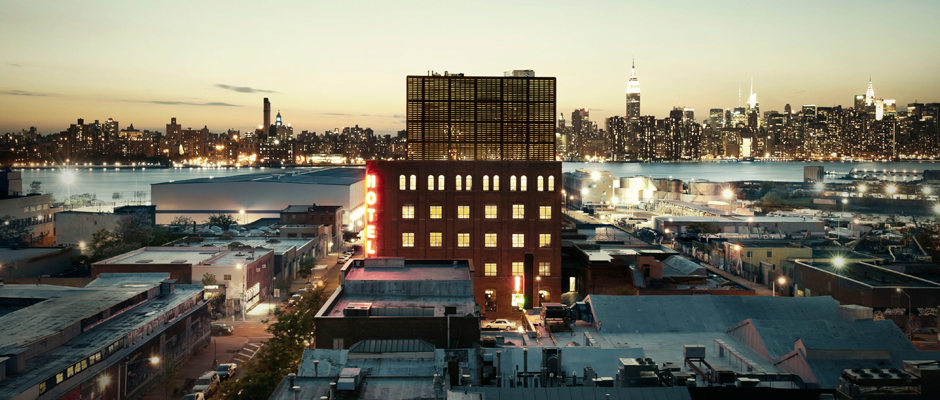 Location: Williamsburg, Brooklyn USA

Tom Fruin Studio is pleased to present HOTEL, a new sculptural artwork by Brooklyn artist Tom Fruin. This monumental 50 foot tall marquee on the Wythe Hotel in Williamsburg, Brooklyn, is made from colorful scavenged signage collected from all corners of the city over the past two decades, and fronted by four-stroke red neon, evoking a vanishing face of old New York.

The hand-riveted signs merge and combine in unexpected ways to create a new whole, showing the variety and spontaneity of the New York streetscape while collectively announcing the arrival of a new hotel in one of the few remaining raw areas of Williamsburg. The signs, featuring hand-painted fruit and pizza, air conditioner repair advertisements, warnings and phone numbers, were found all over town from a demolished pizza deli in DUMBO to a converted paper supply warehouse on the Bowery. Many were liberated from construction dumpsters or discovered in the street. One sign features 3D artwork by graffiti artist Dan Witz, dating to the mid-90s.

This project is the largest of Fruin's found signage series featuring riveted sheet metal tributes to the buildings of New York City. An impromptu installation from this series, depicting city's housing projects, is currently on view on the streets of Brooklyn.

Tom Fruin (b. 1974) works in Brooklyn, NY. His work is a part of many international museums and collections, most notably The Hanck Collection at the Museum Kunstpalast in Düsseldorf, Germany; the Richard J. Massey Foundation for Arts and Sciences in New York, NY; and the Buenos Aires Design Center (Centro Metropolitano de Diseño) in Buenos Aires, Argentina. Fruin's most recent contribution to public art in New York City is the 50 foot tall neon sculpture HOTEL on the Wythe Hotel in Williamsburg, Brooklyn.

Hotel, 2012
found signage, steel, neon, rivets
50 x 8 x 1.5 feet

For additional press information please contact Becky@tomfruin.com.
First two photos courtesy Wythe Hotel; third photo by Robert Banat.